Data availability and backup is a business issue, not an IT issue
Protecting organizational data is not a choice – it's a necessity that underpins business performance, reliability, and resiliency. In the Forester Report "The Ongoing IT Struggle: Delivering Availability 24x7x365," they talk about the increasing number of mission-critical and business-critical workloads and the demand for Always-On availability. The IT function has become ever-more critical to business success as the architects of a new era of business are tasked with delivering a New Style of IT. It is increasingly apparent to CIOs and storage managers that backup and recovery processes must evolve to harmonise with this new architecture. The transformation that is already happening in many IT departments today is increasing the pressure on traditional backup architectures with wide ranging implications. 
"When modernizing data centres, high-speed recovery (59%) and data loss avoidance (57%) are the two most sought-after capabilities; however, cost and lack of skills is inhibiting deployment, according to CIOs."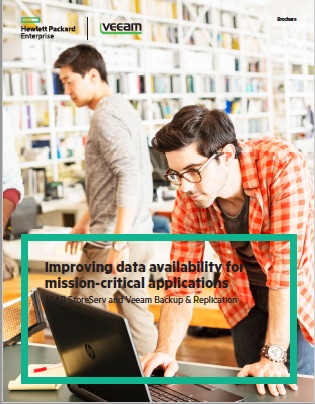 Data growth continues to be a significant challenge, but others also add pressure to the backup process. As your infrastructure fills up with data, systems slow down, expenditures on hardware and resources increase, and the ability to keep pace with service-level agreements (SLAs) diminishes the ability to meet SLAs. Maintaining service levels in the event of failure is critical, whether using midrange, high-end, or All-Flash storage. Small enterprises to global services providers have to ensure Tier-1 storage availability. 
The convergence of primary storage and backup software is helping companies address more stringent services levels. Backup software can now bridge the gap between primary and secondary storage, allowing the overall solution to work in concert together vs. the siloed solutions of the past to provide a more comprehensive data protection strategy with availability for mission-critical applications. Many IT departments today are increasing the pressure on traditional backup architectures because of lack of capabilities and IT's inability to meet company demands. 
At MSS, we customise the right solution to offer efficient, fast, and simple backup and recovery for your business, working with industry leading vendors like HPE and Veeam. 
Together, the HPE and Veeam solution allow you to recover at Always-On speeds with a solution that is:
Efficient
Achieve RPOs without impacting VM or application availability
Increase IT resource efficiency and capabilities
Easily scale your data protection solution to meet business need

 
Fast
Reduce recovery time from hours to minutes
Instantly recover VMs, files, and application items from HPE Storage Snapshots
20X faster backups from storage snapshots using Changed Block Tracking
Simple
Browse, click, and restore files with Veeam Explorer for Storage Snapshots
Protect and restore your entire virtual infrastructure with a single pane-of-glass management interface
Easy to configure – no additional modules or agents required
---
To find out more or for a no-obligation chat to discuss your business ICT needs, please contact Harriet Mellor on hmellor@mssit.com.au or call 1300 MSS4IT. 
This article was reproduced with permission from Veeam.